THE TRUTH WITHIN
by Dadaji
edited by Ann Mills
THREE Online Reading Options:
1 Read or

download THE TRUTH WITHIN (3rd Edition)
2 Read or

download THE TRUTH WITHIN (2nd Edition): Note: Files require free Adobe Reader. If you don't have it click on Adobe icon below.


Introduction Title page, Contents, About the Book, What it's like to meet Dadaji, Sri Satyanarayan Portrait

Part I - Remember Him
Part I - 1.1
Part I - 1.2
Part I - 1.3
Part I - 1.4
Part II - Do your Duty
Part II - 2.1
Part II - 2.2
Part III - Enjoy Life with Him
Part III - 3.1
Part III - 3.2
Part IV - On Dadaji
Part IV - 4.1
Part IV - 4.2
Part IV - 4.3
Part IV - 4.4
Part IV - 4.5
Part IV - 4.6
Part IV - 4.7
Part V - Dadaji on His Own
Part V - 5.1
Part VI - Dadaji on Miracles
Part VI - 6.1
Part VII - Extraordinary Experiences
Part VII - 7.1
Part VII - 7.2
Glossary and Bibliography - 8.1
Ramaiva Sharanam Song - 8.2

Now available at amazon.com!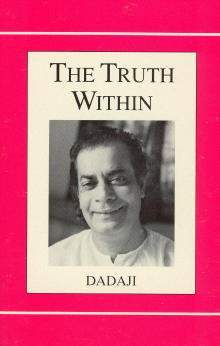 First Edition, June 1987 (out-of-print)
Printed in the United States of America
Publisher: Amida Press, Westport Washington USA
ISBN 0-942687-02-7
Library of Congress Catalog Card No 88-71322

Dec 2003 Amazon.com Reviewer: danielm79
The Truth Within is a remarkable book about life, love, happiness, truth and God -- some of the most quintessential questions we face. Have you ever asked yourself the following questions: Who am I? Where did I come from? Why am I here? How do I find God? Then this book will surely help you answer those questions and more.

The book is easy to follow and provides a wonderful journey with a most humble guide, that person being known as Dadaji (elder brother). Edited by Ann Mills, The Truth Within illustrates Dadaji's message; simply, that you don't need to retreat to the Himalayas and become an ascetic to realise God, nor do you have to become a vegetarian or practice meditation for hours on end to relish in His love -- God is within and so very near, all we have to do is remember Him. That's it!

I particularly enjoyed reading this book as it covered numerous topics such as, life, truth, God, God's name, death, meditation, yoga, wealth, desire, attachment and detachment, the future, relationships, space & time, reality, and love. It also includes personal accounts and newspaper articles about Dadaji.

Dadaji challenges notions of organised religions, priests, gurus, rituals, mantras, spiritual techniques, the New Age, and asks people to simply look within - it doesn't cost anything and you don't have to go to India, a temple, a mosque, a crazy cult, or church to do it! If you have been searching for answers, and have tried everything, you won't regret reading this book, as I think it will reveal to you that, in Dadaji's own words: "Truth is One. Almighty is One. Humanity is One. Religion is One. Language is One. God is within as Mahanam (God's Name) and available to you the moment you remember His Name, Gopal Govinda."